I am that girl with clothes in her closet that still have price tags on them. I'm just trying them out, seeing how they work with the rest of my clothes. Sometimes I make the decision in time to return them....other times, not so much. Now this is a little harder to do with home decor items which brings us to...
Price tag on or off?
Today's example is the ever versatile garden stool.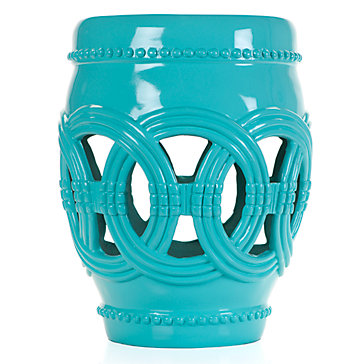 That one is from Z Gallerie
Here is mine from Ross
(sorry for the poor photo quality it was late and I was excited to share!)
Not an exact replica but pretty close. It is not as vibrant as the Z Gallerie one (more of a muted turquoise which is OK by me)
Now I was not actively looking for one of these, nor do I know exactly where it will go. But I saved $90...
Price tag on or off?
Here are some interiors to help you make your decision....
They are beautiful as stools for extra seating in a living room...
Accent tables or additional seating in a pinch...
Or as they were originally used for outdoors...
Let me know what you think?
*****There is still time to enter my very first giveaway...
Enter here!
*****
Pin It