I am back! I had such a good time in Vancouver. The weather was great and I met so many nice and fun people.
I don't know about you, but I am hosting Thanksgiving this year. As much as I would like to show you a cute and collected tablescape, I am just trying to keep my head above water because we are hosting 24 people!! I come from a large extended family and I wouldn't have it any other way!
By the way, here is the layout I made for the seating....
What I can share with you is the recipe for one of our sides! We have two versions of sweet potatoes and I will share both of them with you!
This first recipe is a great alternative to traditional casseroles and is something a little different!
Fluffy Sweet Potatoes with Orange
2 1/2 lbs of Yams
1/2 can (3 oz) frozen orange juice concentrate
1/4 C. (packed) brown sugar
Grated rind of 1 orange (I cut this out and it was
still pretty orange tasting)
1/4 C. (1/2 stick) butter or margarine
Wash sweet potatoes. Cook in 2 in. boiling salted
water until tender. Peel. Mash with remaining
ingredients. Makes 8 servings
The next recipe is a new family favorite and if you haven't tried it before you should for this Thanksgiving!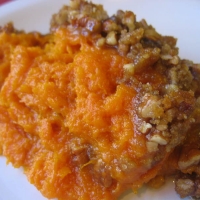 Ruth's Chris Sweet Potato Casserole
1 cup chopped nuts (pecans preferred)
FOR THE SWEET POTATO MIXTURE:
3 cups mashed sweet potatoes
1 stick butter ( 1/2 cup), melted

Preheat oven to 350 degrees F. Combine brown sugar, flour, nuts and butter in mixing bowl. Set aside.Combine sweet potatoes, sugar, salt, vanilla, eggs and butter in a mixing bowl in the order listed. Mix thoroughly. Pour mixture into buttered 9x13 baking dish. Sprinkle the surface of the sweet potato mixture evenly with the crust mixture. Bake for 30 minutes. Allow to set at least 30 minutes before serving.
Hope those help if you haven't narrowed down your sides yet!

I will probably do a followup post on my class with Maria Killam this week but if the week gets away from me I want to wish you all a Happy Thanksgiving! I am so grateful for each and every one of you who read this blog!
Pin It